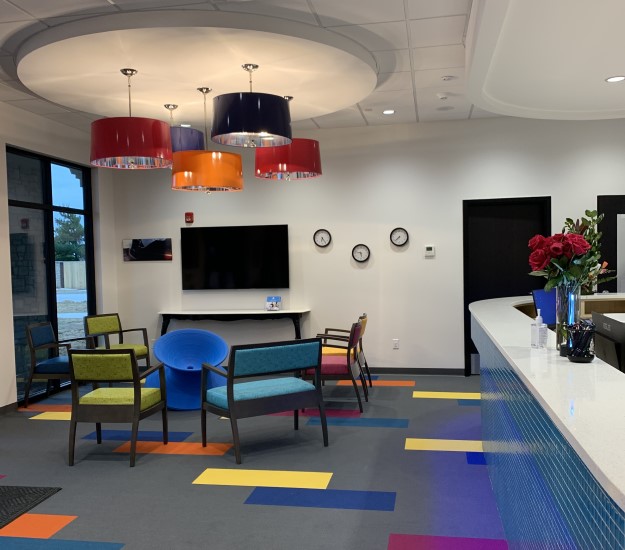 Parent's Place
Cape Girardeau, MO
When do I start taking my kid to the dentist? Should I go to a pediatric dentist instead of my dentist? We know you have many questions and we are here to help. The Parent's Place section is dedicated to answering your questions and giving you the tools needed to keep your child's teeth healthy.
When Should I Schedule My Child's First Dental Appointment?
According the American Academy of Pediatric Dentistry, a child's first dental visit should be scheduled when the first tooth appears or no later than his/her first birthday. The most important part of the visit is getting to know and becoming comfortable with a doctor and her staff. A pleasant, comfortable first visit builds trust and helps put the child at ease during future dental visits. Children should be encouraged to discuss any fears or anxiety they feel.
We have gone to great lengths to help ensure that your child is comfortable during his or her visit. There are several things you can do to help make it an enjoyable experience. Below are a few tips:
Take another adult along for the visit - Sometimes infants become fussy when having their mouths examined. Having another adult along to soothe the infant allows the parent to ask questions and to attend to any advice the dentist may have.
Leave other children at home - Other children can distract the parent and cause the infant to fuss. Leaving other children at home (when possible) makes the first visit less stressful for all concerned.
Avoid threatening language – Pediatric dentists and staff are trained to avoid the use of threatening language, like drills, needles, injections, and bleeding. It is imperative for parents to use positive language when speaking about dental treatment with their child.
Provide positive explanations - It is important to explain the purposes of the dental visit in a positive way. Explaining that the dentist "helps to keep teeth healthy" is far better than explaining that the dentist "is checking for tooth decay, and may have to drill the tooth if decay is found."
Explain what will happen - Anxiety can be greatly reduced if the child knows what to expect. Age-appropriate books about visiting the dentist can be very helpful in making the visit seem fun.
What Will Happen During the First Visit?
There are several goals for the first dental visit. First, the pediatric dentist and the child need to get properly acquainted. Second, the dentist needs to monitor tooth and jaw development to get an idea of the child's overall health history. Third, the dentist needs to evaluate the health of the existing teeth and gums. Finally, the dentist aims to answer questions and advise parents on how to implement a good oral care regimen.
Tips
Brushing
Children should brush their teeth two times a day. Brush once in the morning and again in the evening before going to bed.
Apply a small amount of toothpaste to a soft bristled toothbrush. Tilt the brush at an angle against the gum line. Brush only 2-3 teeth at a time. Gently brush the outside, inside and chewing surfaces of all your teeth. Use short back and forth or small circular strokes. Brush your teeth for two minutes.
Gently brush the tongue to remove bacteria and freshen your breath.
When you think you have brushed all teeth, go back over the lower front teeth. Hold the toothbrush vertically (up and down), and brush the back of each front tooth 10 times. This will help eliminate tartar build up.
Flossing
Wrap about 18" of floss around your middle fingers, leaving an inch or two to work with. Gently follow the curves of the teeth with an up and down motion against the tooth surface. For young children, you may have them lie down and open their mouth just like they are in the dental chair.
Readily available "flossers" seem to help children floss more often. Encourage flossing with these tools while child is watching TV or reading.
Other Tips
Brushing and flossing before bedtime is important for a healthy smile.
Using toothpaste with fluoride helps reduce decay.
Drinking soft drinks (Stop the Pop) should be avoided or eliminated due to the high amount of sugar and acid (in both diet and regular pop)
Visit the dental office every six months
Start Right Program
Parents may think of a newborn baby as having no teeth, but the primary teeth that will break through over the next few years are already present when your child is born. These teeth are crucial to your child's dental development and important to their total health.
Parents and caregivers make the difference in children getting a good start with dental health. Help ensure a healthy smile for your child by creating good habits from an early age, such as regular brushing, good nutrition, visits to the dentist and other decay prevention techniques.
The Start Right materials and education program was developed to address the importance of caring for baby teeth along with practical tips to prevent early childhood cavities.
Early Orthodontics
The American Association for Orthodontists recommends that every child have an orthodontic evaluation by the age of 7. Early detection and treatment gives your child the edge: a much better chance for natural and normal development. By working with the natural growth instead of against it, we can prevent problems from becoming worse, and give your child a lifetime of healthy smiles!
Early treatment should be initiated for:
Habits such as tongue thrusting and thumb sucking
A constricted airway due to swollen adenoids or tonsils
Mouth breathing or snoring problems
A bad bite
Bone problems (i.e. narrow or underdeveloped jaws)
Space maintenance (for missing teeth)
Dr. Scherrman will evaluate and discuss orthodontic treatment option with you and recommend an orthodontist.
Recent Posts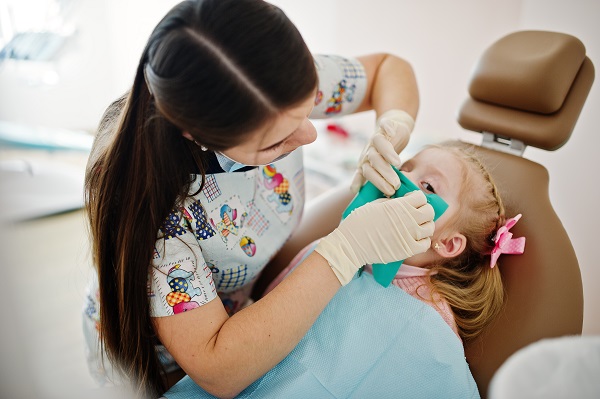 A pediatric root canal is an endodontic treatment meant to remove bacteria and dying tissue from the tooth. The tooth's pulp is the most essential part of the tooth beneath the enamel. The pulp is living and includes nerves, connective tissue, and blood.Cavities can cause permanent damage to the teeth and cause holes for the…